As an adult, I miss the thrill of new crayons, pencils and notebooks, like when we went back to school. When I started working in an office, the closest thing to that excitement and joy was getting my new desk calendar every December! I loved the blotter desk calendars and couldn't wait to replace the old dog-eared pages with the brand new, crisp pages for the new year. Now you can recreate that excitement again, on your tablet! (Or you can print out the pages and keep them in a notebook!)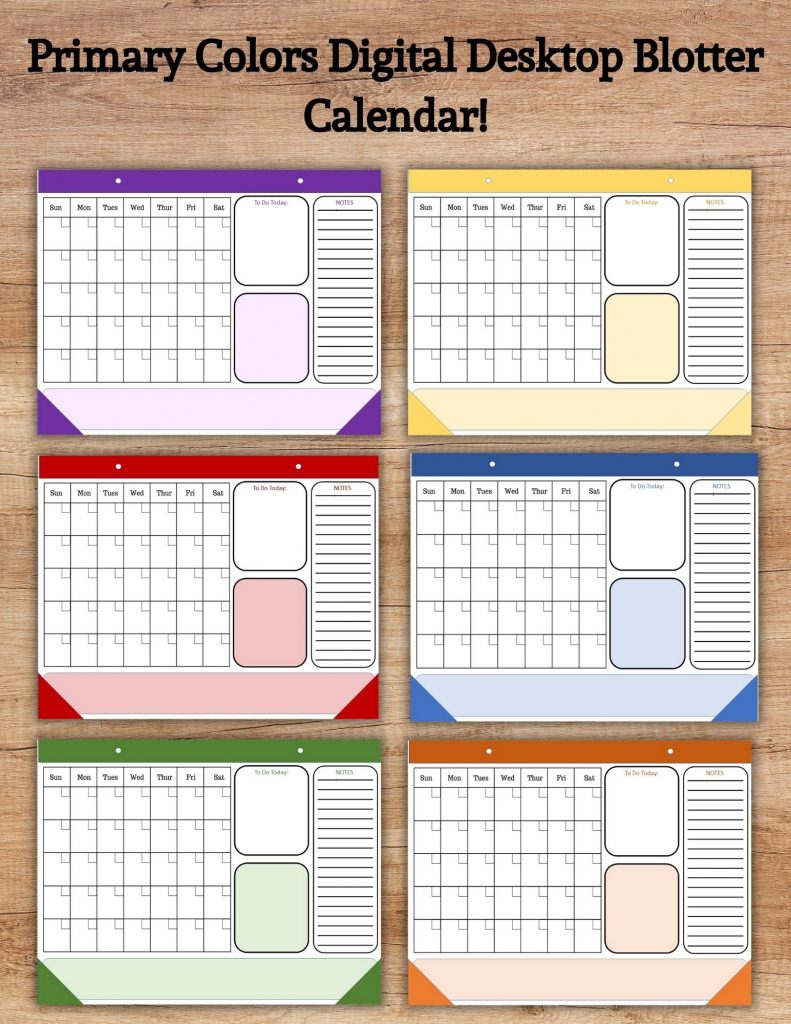 The Primary Colors Digital Desktop Blotter Calendar recreates the look of the old blotters with the additional features of being able to add digital stickers, labels, etc. (You must have an app to use digital calendars.)
This is a PLR product and is fully editable in .ppt. The undated calendars are .jpg, so if you want to create a dated calendar or change the font, you can insert a new .jpg or .png. I left these undated so they can be used interchangeably, but you might prefer to add a yearly calendar and use a different color for each month.
You'll get six calendar pages that look like old fashioned blotters, each with a different primary color scheme. You can sell them as individual calendars, a set of 6, or you can double them up, add other elements, etc. to create a full year. The possibilities are nearly endless! You'll get four sizes: 11 x 8.5, 10 x 6, 8 x 7 and 8 x 5 inches.
These can also be marketed as a printables. The calendars can be printed and placed in a binder. It's a super cute way to keep track of appointments, birthdays, etc!
This is a digital product and you will not receive a physical product. It comes with a PLR license. Please read the digital products terms and conditions and licensing information before purchasing. This is available as an editable PowerPoint file.